My New Favorite Jeans
I hate wearing pants. I've always been curvy, so jeans shopping was never my favorite activity. It always seemed like no matter what I did or where I went, the jeans I tried on would be one of many things: too tight, too baggy, too long, uncomfortable, or just plain ugly.
That was until I got to high school and my mom gifted me with a pair of Levi's that may as well had been made specifically for me. Finally, my denim prayers had been answered! They were a standard rise mid-wash with distressing in the knee. Oh, how I loved them. When I wasn't rocking a skirt or a dress, I wore those jeans with just about every top that I owned. They were even one of the first things I packed with me when I was getting ready to head off to my first year of college.
Then, the nightmare happened: I ripped my pants. Well, it wasn't quite that dramatic, but my constant wearing (not to mention that Freshman 15 that went STRAIGHT to my thighs), caused some unrepairable holes. I was devastated. "Back to square one," I thought to myself.
Would I ever find jeans as perfect as my beloved Levi's?
Fast-forward to me starting to work at Madewell. I had bought a few pairs of jeans from there to wear during my shifts, and don't get me wrong, I love my jeans, but a part of me couldn't let go of the past. Like seriously, even though the Levi's had been ripped for years, I still hadn't thrown them out.
We got in a new spring/summer shipment this April, and that's when I saw them. The cutest pair of 9" high rise jeans with brass buttons. They were laying on the table so beautifully and I could've sworn I actually heard them call my name! I tried them on after my shift and instantly fell in love.
I found my "new Levi's!" (And finally tossed the old ones.)
These new jeans are great because they're cropped. I'm not the tallest person in the world, and I have small ankles (I know this sounds weird, but I really do), so I'm VERY particular about how my jeans fit throughout the leg. I love the length of them. I'm someone who usually cuffs her jeans, but I don't have to do anything to these at all. Plus, they've got a nice amount of stretch in them, but not too much to the point that they feel like a jegging.
Some customers that have come in to try on these jeans don't care too much for the button trail up the front, but I think that's what makes them fun. I love tucking in my shirt to show them off!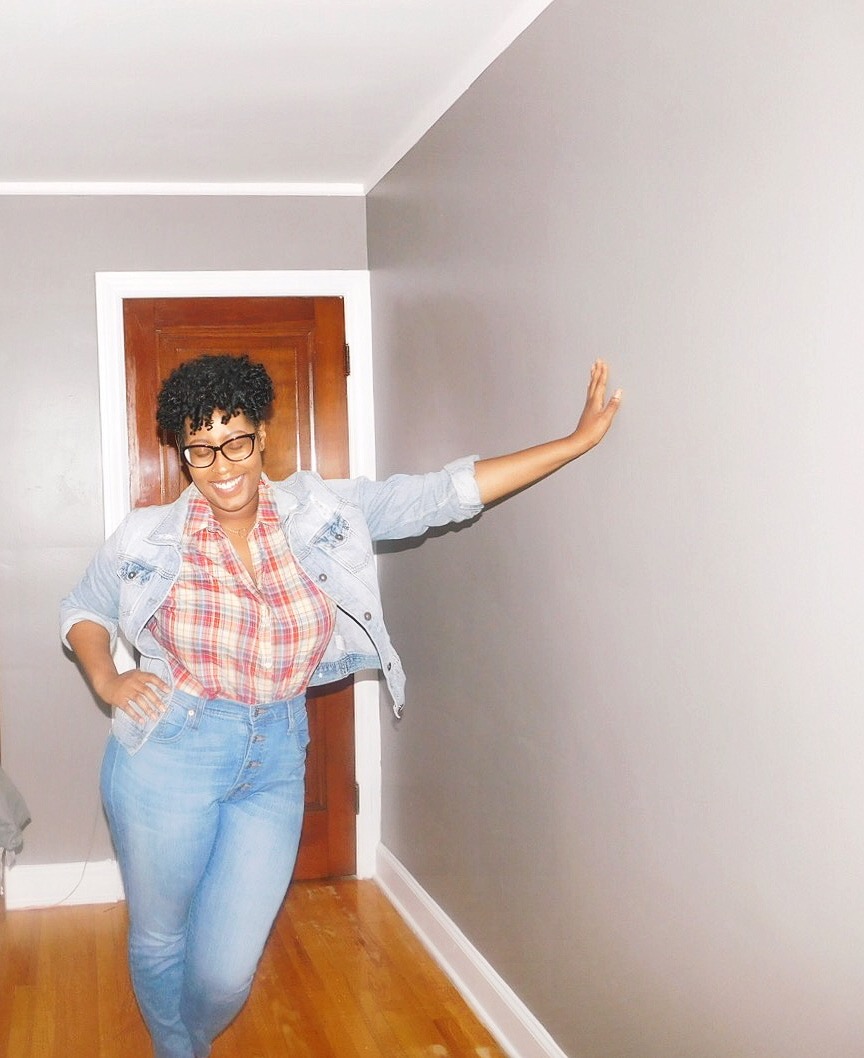 I've been wearing these just about every other day (currently wearing them as I type), and I would definitely encourage you guys to try button-through jeans at least once. And if you're having a little trouble trying to figure out how to style them, you can take a cue from my book and do a button-up top with a denim jacket or vest. Instantly cool, no?
So if you're on the hunt for the dreamiest pair of denim, I'm here to tell you to keep hope alive! If you've got curves, I know that it can be a challenge to find the perfect pair that fits you just right, but keep searching! I think that everyone should have a really nice pair of jeans that can go with anything and that are going to last for a while. If you've got any questions about denim, feel free to ask me. I've become quite knowledgeable over these past few months, and I'd love to share some tips with you!
Outfit Details:
Jeans: Madewell // Top: Madewell // Shoes: Splendid
Jacket: Freestyle Revolution (link is to an alternative)
Vest: Highway Jeans (link is to an alternative)